Indoor planters are without a doubt one of the best ways to bring the outside in. In fact, mid century architects used natural light (along with other natural materials) to showcase nature at every turn.
With more light in the home, people could now introduce a variety of plants to their interior. Some of the more popular mid century modern houseplants included the mid century Snake Plant (seen above), Split Leaf Philodendron, and the playfully-named Fiddle Leaf Fig.
These quintessential mid century houseplants are beautiful on their own, but they look even better when featured in a modern planter. Let's explore some of the best indoor planter styles the mid century era had to offer.
Indoor mid century modern planters of the 1950s and 1960s
The planters of the 50s and 60s followed form with the midcentury modern design of the time. Clean lines and minimalism ruled, and the indoor planters followed suit.
Just like the architects of the era, many planter designers used organic materials such as stone, wood, and metal to accentuate the natural look of the plant.
There were a plethora of shapes and sizes, ranging from tall to small. However, some of the most iconic designs of the times were minimal planters with stands. Let's take a look at a few of our favorite replicas below.
Indoor planters with stands
Look at any interior magazine photoshoot of the 1950s and you'll see these beautiful indoor planters with stands. Standing tall between 1 and 3 feet, these planters single-handedly elevated (pun intended) the look of the modern houseplant.
Two of our favorites are the brass/gold indoor planter set by Kimisty and the black metal planter with stand by Decozen. Let's take a look at both in more detail.
Kimisty Modern Brass/Gold Planter with Stand
Known as the Bird planter, this amazingly modern brass gold planter has a minimalistic style that will look great in any modern setting.
The planter set of 2 comes in both this stunning brass/gold color as well as white. Kimisty makes a ton of other mid century modern interior planters, so if these don't float your boat, check out their complete lineup on Amazon.
Decozen Decorative Planter
With it's wire-y, gravity-defying legs, the Decozen decorative indoor planter is the epitome of mid century style.
With a metal base and planter bowl that stands over 2 feet tall, this planter is perfect for smaller or cascading houseplants.
These planter designs are great, but not every room calls for a 2 or 3-foot tall planter. Let's take a look at some mid century inspired smaller indoor planters below.
Small indoor planters
For those of us with smaller needs, there are plenty of options available for indoor planters. Three of our favorite small indoor planters come in a ton of colors and finishes, making them suitable for any and all decor.
MODN LOVR Indoor Planter
The first on our list is the MODN LOVR mid century planter. This stunning 8.5″ pot is perfect for smaller houseplants around the house. It comes in white, black, pink, copper, and silver.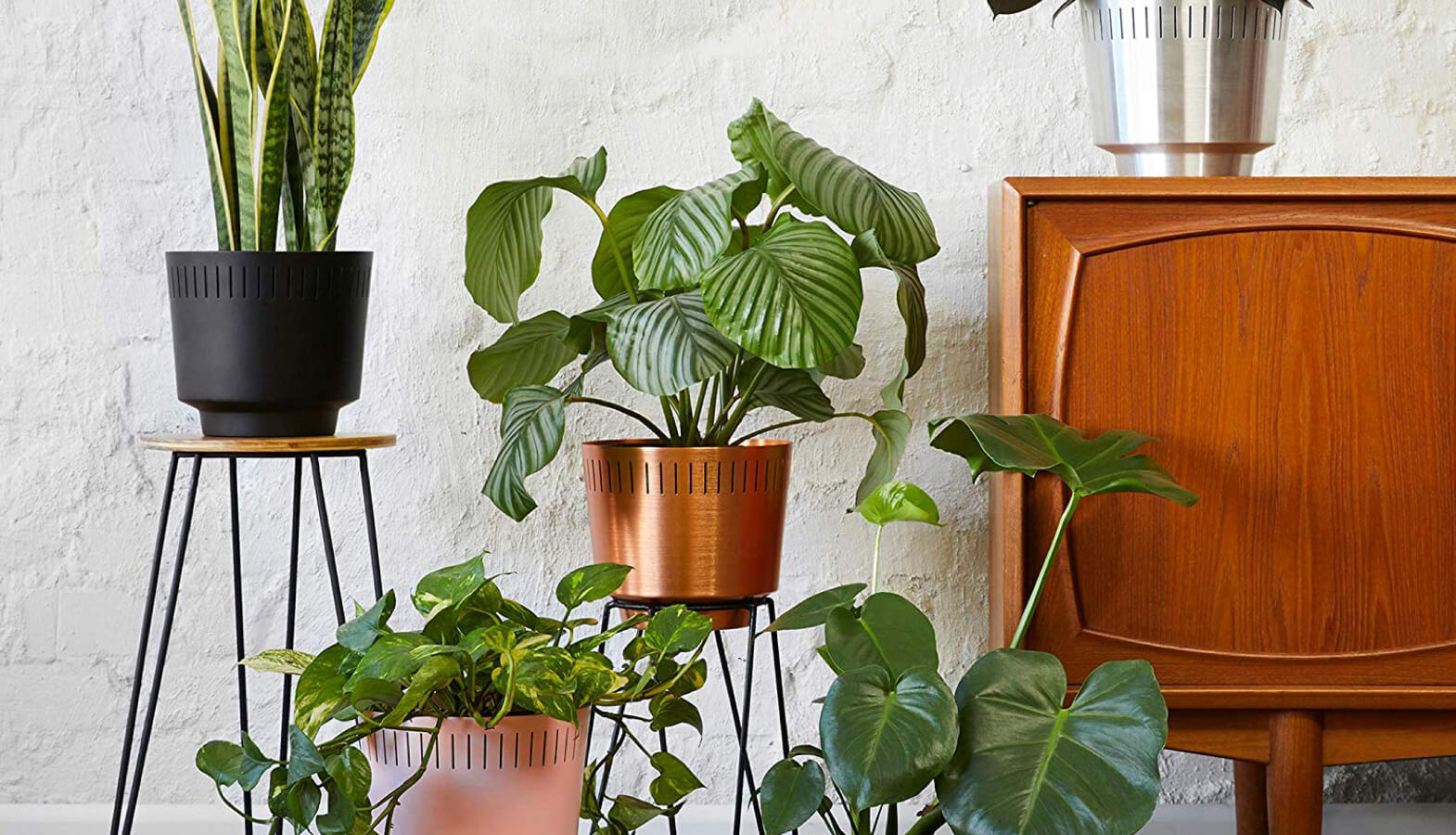 This timeless design is sure to look great in your home. You can keep it on a counter surface or buy legs separately to add some height if need be. It also has built-in leak protection, so counters and floors will stay dry.
MyGift Ceramic Planter – Set of 2
The MyGift ceramic planter screams mid century. With it's classic and subtle hobnail texture, this planter set will work everywhere.
This set comes in 3 colors: white, green, and yellow. Talk about the perfect colorway for the era! The large planter clocks in at 5.5″ tall while the shorter planter stands 4.3″ tall.
Perner Home Vintage Planter
This small indoor planter from Perner Home packs a big punch. At just under 7″ tall, this beautiful tri-legged planter will enhance any mid century vibe.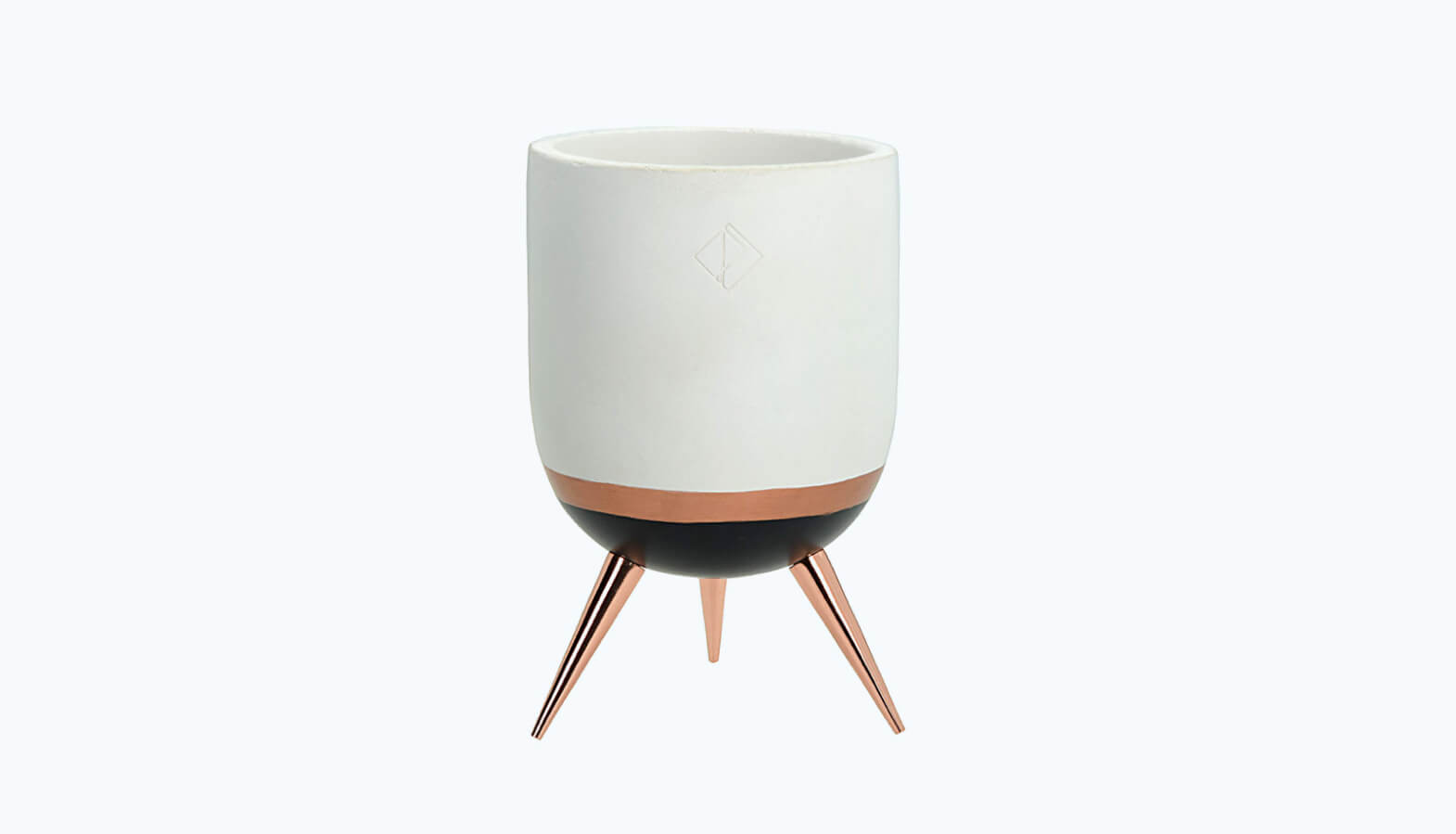 The white, navy, and rose gold look is striking—it's a perfect way to highlight one of your favorite indoor houseplants.
Go on, bring a little nature inside!
There are a TON of options when it comes to mid century indoor planters. These are just a few of our favorites, we hope you love them as much as we do. If you enjoyed these, please consider sharing this article with a friend who loves bringing the outdoors into their home. Take care and happy planting!